I'm not sure how to get the attention of the right people, so I'm posting this proposal to the AutoHotKey forum.
For years AutoHotKey has been among the set of tools that I install on every Windows system I use. Recently I found myself wishing the AutoHotKey logo was more interesting, so I decided to see if I could come up with a new logo design to offer for use in the product and web site, and here's the result: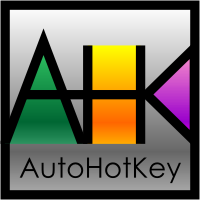 The logo uses simple geometric shapes to represent the letters of the acronym "AHK" with each letter in a different color.
I chose a
triadic color scheme
comprised of the secondary colors of the traditional
RYB color model
(fear my mad color theory jargon skills) with the following rationale:
[*:1uc6wrc0]Green often symbolizes action (a green light for "go", for example), so it seemed like a reasonable color choice for the letter "A" in "Auto".
[*:1uc6wrc0]Orange is a warm fiery color, so I thought it made sense as the color for the "H" in "Hot".
[*:1uc6wrc0]Purple completes the triad, and "K" is the remaining letter in the acronym, so the "K" in "Key" is purple. Feel free to assign your own meaning to the color. :)
You can download the logo/icon collection from
http://woodpress.org...go_Proposal.zip
.
It includes the following raster logos:
[*:1uc6wrc0]
Large (512x512 PNG)
- logo with the text "AutoHotKey" ("Century Gothic" font) for use anywhere that a large logo makes sense.
[*:1uc6wrc0]
Large Brushed Metal (512x512 PNG)
- a variation of the Large logo with a brushed metal background and engraved text, just for fun.
[*:1uc6wrc0]
Web (200x200 PNG)
- a "web-sized" export of the large logo.
[*:1uc6wrc0]
Medium (48x48 Windows .ICO)
- an acronym-only logo for primary application icon.
[*:1uc6wrc0]
Tiny (16x16 Windows .ICO)
- a simplified logo reduced to minimal geometric shapes and vivid solid colors for use as a web favicon and as a system tray icon.
I realize that there are other icons in the AutoHotKey executable, but I am targeting the primary AutoHotKey icon (the white H inside of a green square) which I believe is effectively, if not officially, the product logo. If this proposal is well received, I will probably create additional icons to create a consistent set.
These logos were created with CorelDRAW 12, and I have included the CorelDRAW .CDR vector files as well as Adobe Illustrator .AI files (exported from CorelDRAW) so they can be edited by others to meet any needs that I haven't anticipated.