AutoGUI is an Integrated Development Environment for AutoHotkey which combines a script editor with a GUI designer, debugger and tools.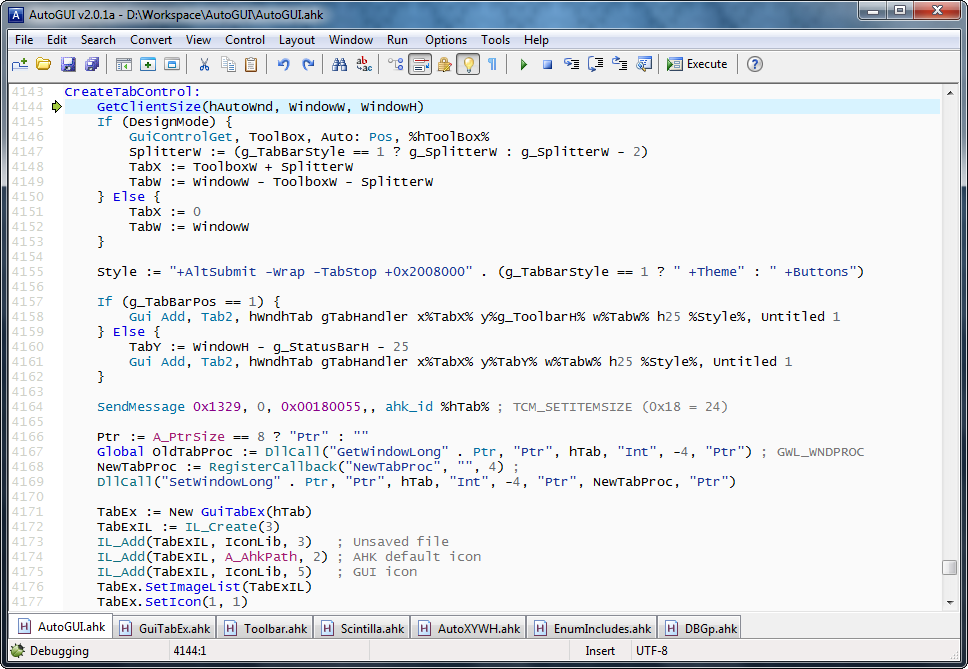 Download
---
Script Editor Features:
Multi-tabbed editor
Syntax highlighting
Autocompletion
Code tooltips (calltips)
Insertion of parameters
Highlight identical text
Line numbering
Code folding
Find/Replace
Find in Files
Mark line and text
Show white spaces
Load/Save Session
Auto-save and Backup
Integrated help
---
GUI Designer Features:
Support for all control types
Drag and drop positioning of controls
Alignment, positioning and sizing commands
Window/control properties
GUI importation methods
Menu editor
Toolbar editor
---
Debugger Features
Start, Stop, Pause
Step Into/Over/Out
Breakpoints
List of variables
Call stack
Attach to a running script
---
Tools included with AutoGUI:
MagicBox: message box generator
Expressive: regular expression test tool
Constantine: Windows API constants explorer
A_Variables: list of built-in variables
Scripts Manager: list of running scripts
COM Inspector: information about COM interfaces
Structor: structure offsets and size
Verifier: check the value of constants
ErrorView: list of system error messages
---
Some other tools for development:
WinSpy: window information tool
---
GUI Designer Usage:
Choose a control type in the sidebar and then click the desired location in the preview window.
Controls can be resized with the resizing grippers or by holding Shift while dragging.
Right-click a control to show the context menu.
Click and drag on an empty area of the preview window to draw a selection rectangle around multiple controls.
To select a control, hold the Ctrl key while clicking on it. Ctrl+A selects all controls.
The arrow keys can be used to make fine adjustments in the position/size of the controls.
Press F9 to run the script. See the Run menu for more options.
F12 switches between Design Mode and Editor Mode.
AutoGUI in Design Mode (old version):
---
Requirements:
AutoHotkey Unicode v1.1.23 or higher. Tested on Windows XP, 7, 10.