Hi guys,
I would like to realize the following:
When creating a Gui which contains buttons, I want to add a little icon (picture) next to the buttons.
When a user highlights such a picture with the mouse cursor, an information box with text should appear.
As soon as the mouse cursor gets moved away from the picture, the text box should disappear automatically.
I was thinking about something like this: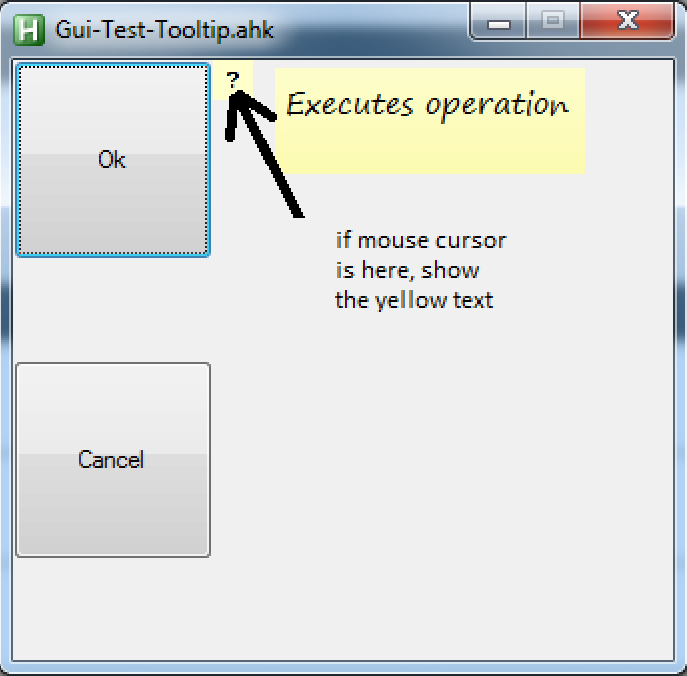 I believe I saw such behaviour in programs, but I can't remember in which ones.
Is "tooltip" suitable for my desire?
The code (for this simple text gui is):
Code: Select all
F7::
x := (A_ScreenWidth/2)-(Width/2)
y := (A_ScreenHeight/2)-(Height/2)
Gui, +AlwaysOnTop
Gui, Show, %x% %y% w330 h300
Gui, Add, Button, x0 y0 w100 h100 gOk, Ok
Gui, Add, Button, x0 y150 w100 h100 gCancel, Cancel
Gui, Add, Picture, x100 y0 w20 h20, C:\Users\USER\Documents\Logitech Gaming Software\AutoHotKey-Scripts\pics\Question.png
return

Ok:
Gui, Submit, NoHide
Gui, Destroy
return

Cancel:
Gui, Destroy
return

Esc::
ExitApp
return

Best regards